Votive Candle - Mother of Light

Psalm 49:14-15 "Offer to God the sacrifice of praise: and pay thy vows to the most High. And call upon me in the day of trouble: I will deliver thee, and thou shalt glorify me."


The Most Common Votives

Ex voto offerings most often take the form of the lighting of candles, the placing of flowers or pictures before icons, and leaving thank-you notes, money, or little tokens on or near the altars or statues of Saints in churches, shrines, or family altars.

This last -- the leaving of little tokens -- is most common in Mediterranean cultures (Greece, Italy, Portugal, Spain) and the cultures they gave rise to, especially Mexico. These tokens (known in Spanish as "milagros" meaning "miracles," or as "promesas") can be made of anything -- paper, wax, bone, wood, silver, tin, copper, bronze, gold (the inexpensive metals are the most common nowadays) -- and almost always take shapes that symbolize the miracle one is seeking or for which one is offering thanks. For example, if one has bad eyes, an ex-voto depicting eyes is taken to a church -- especially to a church dedicated to St. Lucy, Patroness of those with eye problems -- or is placed on one's home altar near a statue or other icon of the Saint being besought or thanked. These ex-votos are pinned to clothing that may adorn a statue, and are nailed onto wooden crosses, into ornate shadow boxes, and onto frames holding holy pictures. They are also pinned to ribbons that hang in shrines and around family altars just for this purpose, and are often accompanied by thank-you notes to God and His Saints.

---
The Lighting of candles from the Maronite Catholics adds depth to Christian Catholicism. I found the Hymn they sing entitled, Christ The Light :



Lighting of the Church

The first tangible liturgical action is the lighting. Christ, in fact, is our Light; light symbolizes Him. Thus, the lighting of the church (candles and lights) takes place before the entrance of the celebrant, while the congregation sings a hymn to Christ the Light by whose light we are all enlightened.

Mother of the Light
Rabbula 6th century

This icon depicts Mary presenting the Christ Child to the viewer. The dome at the top consists of a blue arch, a middle row of leaves, and a sheet of gold with inlaid gems, and symbolizes the life of the Triune God. The shrine, represents the Kingdom in which dwell Mary and the Lord of heaven and earth. The Lady of paradise is dressed in a purple cloak, a color reserved for kings and queens, which suggests that she is the Mother of the King. Her red shoes, the footwear of Byzantine queens, notes that Mary is the mother of the Divine Lord. The Child holds a scroll of the eternal law for Christ is its fulfillment.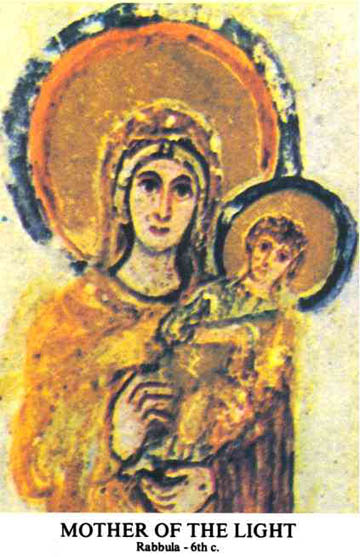 The Virgin and Child are a "Greek" style, yet the halos, reveal significant Syriac features, namely:

   * the 3 basic colors from which all others are derived
   * no cross in the halo of Christ
   * no initials for "Mother of God" in the Virgin's halo

The two peacocks, symbolizing eternal life, flank the shrine, since both figures are divinized in the realms of eternal glory.


Source:  
Eparchy of Saint Maron of Brooklyn